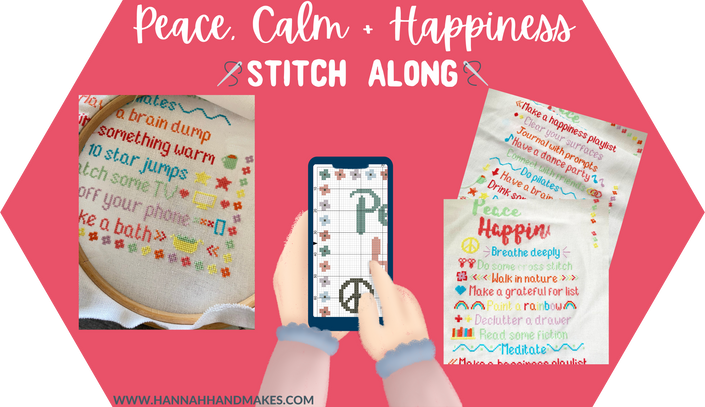 THE PEACE, CALM + HAPPINESS MYSTERY STITCH-A-LONG
Friend, we could all currently do with a little less stress, right?
The world pandemic has us all anxious and worried.
This is why we need our hobbies now more than ever!
Don't let the stress take over!

How would you like to join a stitch-a-long that is all about adding more peace and less stress to your days?

Introducing: The Peace, Calm + Happiness Mystery Stitch-a-Long (SAL)

We start stitching on Sunday 5th April 2020 and every day until the 27th April 2020 a new part is released for you to stitch!

This SAL will be hosted in Teachable to make it easier for you to access the patterns; they will all be in 1 place with clear "day 1", "day 2" headings. And Teachable even has an app you can download! Plus you can view the pattern directly in Teachable without having to download it.
Once you join the SAL you will be inside where all of the patterns will be, but at first, there might not be anything in there. On Monday 30th March the supply list will go live which includes all the supplies you need to stitch this project. Then on Sunday 5th April, you will see the first part of the pattern (they will be going live around 8am GMT).
For those of you who have joined SALs from me before, there will be no emails going out for this one. Like many of you, my kids are home for the foreseeable and emailing every day just isn't going to be practical 🤣
I will still be inside the Facebook group though so we can connect over there.
I usually do 2 different palettes for a SAL so you can choose which you prefer. This time we have a muted, earthy palette and a bright, happy palette. You can see some examples of the colours below.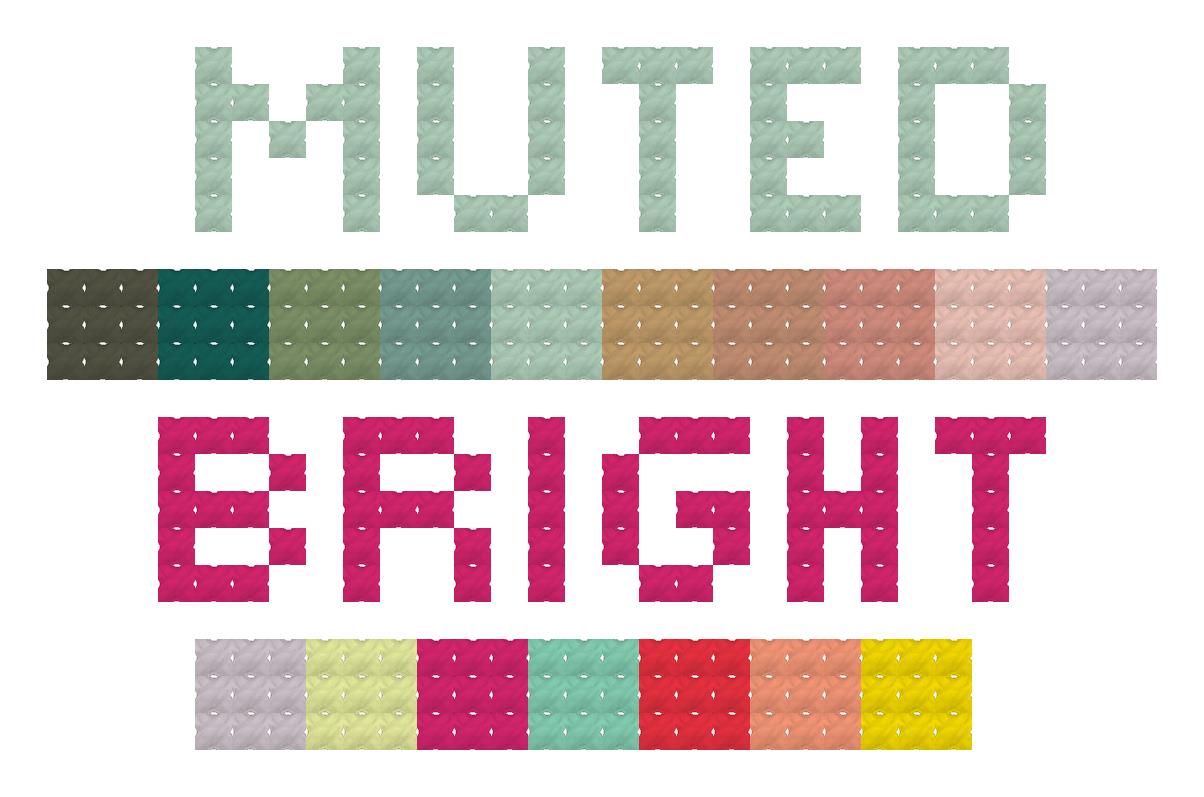 However, for this one, I also recommend trying to use your stash and picking your own colours! As I said above, there isn't much that has to be a certain colour so use some of that stash up and have a play around with the colours.
As well as all that, over in the Facebook group, I will be talking about ways we can keep calm during chaotic times. This doesn't just apply to the current coronavirus pandemic, but to life in general.
The design for this SAL measures around 8x20 inches and will look great as a longline banner (don't worry I have a tutorial for that 😁).

JOIN NOW!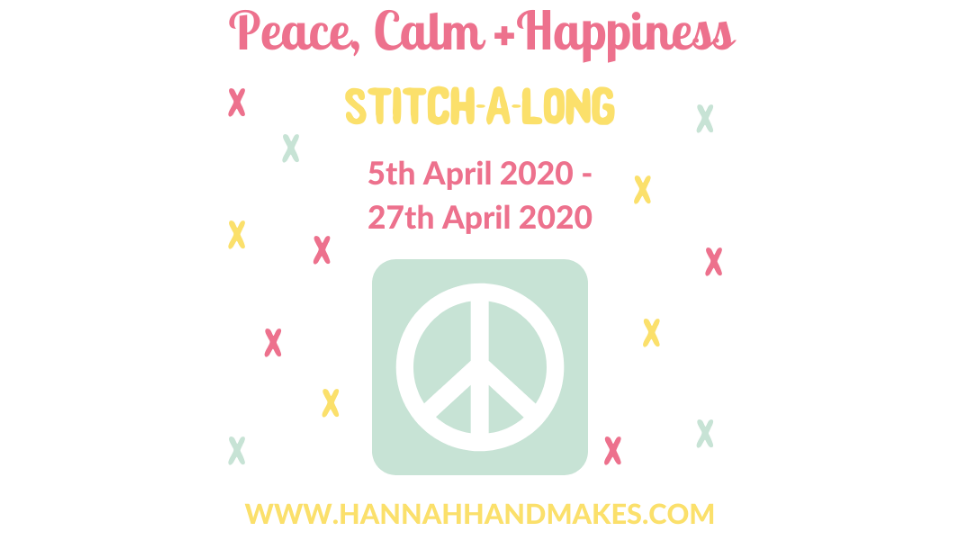 Your Instructor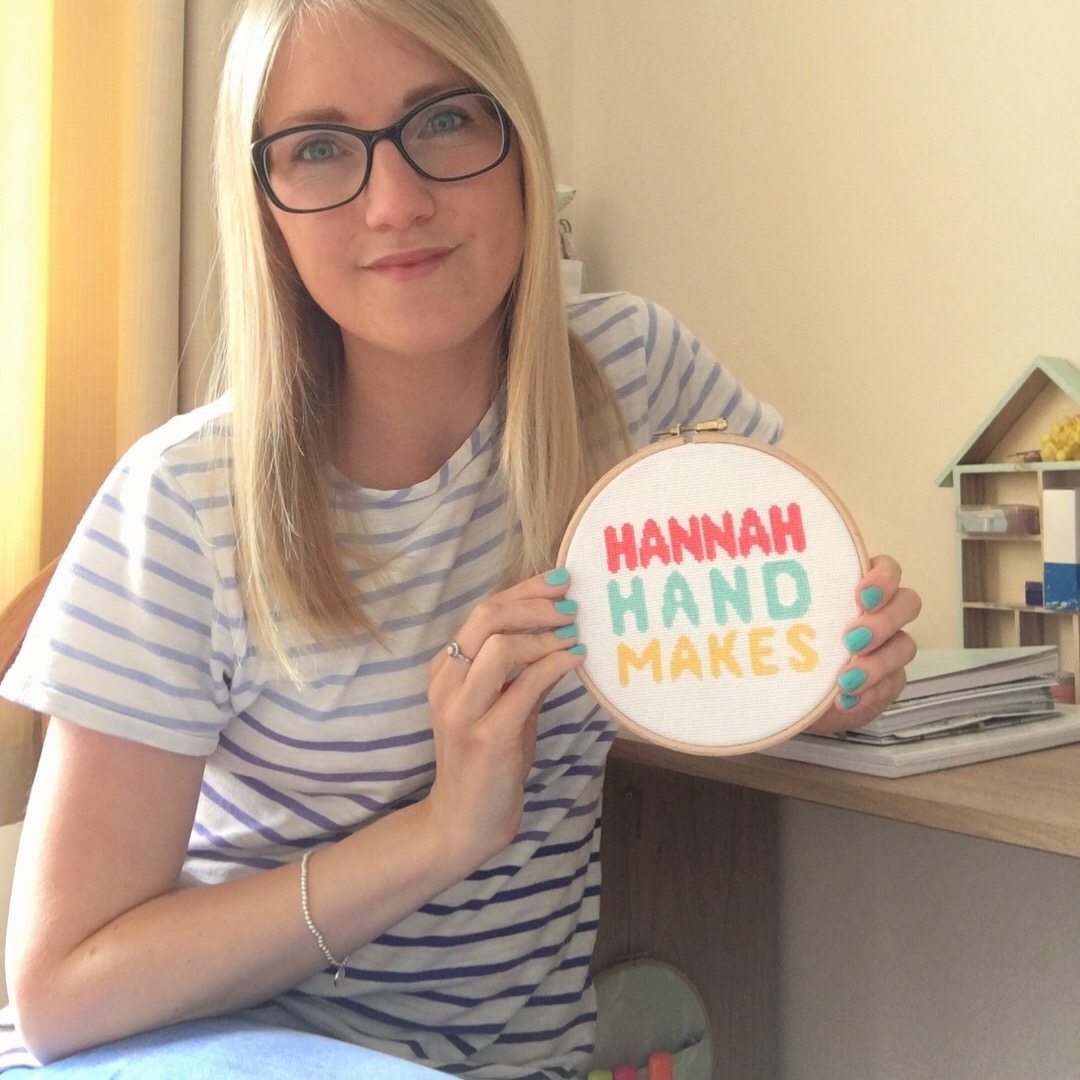 Hi, I'm Hannah! I've been cross stitching almost everyday for the past 5 years and I'm passionate about teaching beginners how to cross stitch in the simplest way I can. I've been blogging and sharing tutorials on cross stitch for the past 3 years and now I even podcast about it on The Cross Stitch Podcast. I love cross stitch and want to share it this wonderful craft with as many of you as I can.
Frequently Asked Questions
How long do I have access to the SAL?
How does forever sound? That's right, even if you don't keep up with the daily stitching you can come back whenever you want to catch up.
I'm a beginner, will the SAL be too hard for me?
This SAL uses just the basic cross stitch, but is still a beautiful pattern so you should definitely be able to stitch it if you are a beginner. It is a little larger than my usual patterns, but there are no complicated colour changes or stitches!
I've only just found the SAL and you've already started, can I still join?!
Of course, you can. Just join through one of the buttons and you will see all of the links to the parts of the patterns we have stitched so far. You can choose to start from day 1 or just view the latest pattern and start there.